We started Saturday 13 July at 5 pm from Killarney Co. Kerry. It was long drive to Cork but very enjoyable as the weather was absolutely fantastic. It didn't take us long and we were next to the airport in Cork another 20 minutes drive and we could see the amazing landscapes of West Cork. Around 7.30 pm we landed on the first spot. Shallow, the depth was up to 6 mts and water temperature 17 degrees. The visibility wasn't more than 5 mts. After the first 5 minutes we hit a Sea Bass. He was just lifting off the bottom looking at me. When he turned right to swim to the deeper water I took a shot, next second – hit right in the middle.
When I pulled the fish closer I could see marks on its body – probably after a seal. We spent another 45 minutes in the shallows and all we saw was another bass but was very skitty and didn't give us a chance.There was very little presence of fish but the dive was very enjoyable. It was getting dark so we decided to head to another spot and put up the tent. When everything was ready, time for the BBQ! In great atmosphere next to the sea on still warm sand we were eating away the latest prey plus few other delicious pieces. A small bottle of Heineken was just the perfect ending for such a busy day out.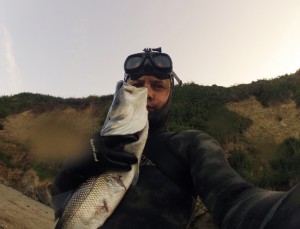 Next day we started early- about 8 am as the tide was coming in. Different spot for deeper dives. Another 3 spearos from Dublin joined us for few dives shortly. We were exploring the coastline of West Cork on our small inflatable. The range of depths was 6-20 mts with various visibilities.
We were divided into couples for safety and started exploring what was on offer. Medium to small size Pollock and a huge amount of jelly fish some of them pretty nasty.
We ended up having few nice size Pollock + flounder for the dinner.

We would like to thank Yianni, Andy and Paddy for the great time in Cork!
Safe diving and….stay tuned!