Spearfishing in Indonesia by Shane Tierney from Apnea Ireland (www.apneaireland.org)

A friend and I began talking around August 2011 about going on a spearfishing / adventure trip to somewhere tropical with warm water, good visibility and lots of big fish. We thought about the Phillipines amongst other places, however it was practically impossible to find information regarding spearfishing there, especially as we were on a fairly tight budget and didn't want to spend money on boat hire and guides. I was dead set on finding somewhere where we could fish good sized pelagics with accessibility from the shore and to stay there for a good while hunting and enjoying the sea life, however my buddy 'D' was leaning a bit more to the adventurous side of things. 'D' mentioned he had been to the Banda Islands in the Maluku Province in Indonesia, a group of about ten small volcanic islands in the Banda Sea about 1600km east of Bali.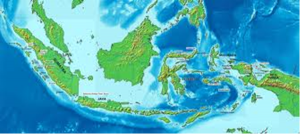 I started researching online and right away I wanted to go there! Small volcanic islands with beautiful beaches, rich coral, clear, warm waters and huge drop-offs just metres from the shore. 'D' however, was reluctant as he'd been there before and said he would prefer to go somewhere he hadn't been, so we made a compromise to travel around some of the Maluku Islands (and hope the conditions and fishing were good) and eventually end up in the Bandas for a couple of weeks before heading back to Bali to do some diving with friends who had just opened a new freediving school there. We had two months to kill so it's not like we didn't have time!
After some further research online, we decided to go at the beginning of March and stay in Indo until end of April. At the time of deciding this we were both based in Koh Tao, Thailand, training and teaching freediving. By March, however, 'D' was already in Bali so I caught a flight from Bangkok to Singapore, Singapore to Bali (where 'D' jumped on the plane) before going on to Makassar and eventually on to the island of Ternate where we would decide where to continue to from there! Long journey? Yes! And this was just the beginning! 'D', to our advantage, was already speaking a good bit of Indonesian and was well able to converse with the locals regarding directions, advice on where to go and where to say and of course haggling for good prices. While he was waiting in Bali Airport to jump on the plane, he made friends with an Indonesian guy, Ilham, who was on his way back to his village on the large island of Halmahera. 'D' had explained to him that we intended on travelling around the Maluku's looking for good places to hunt big fish. Ilham told us that the fishing was good in his area and invited us to go with him. We took a 45 minute speed boat ride from Ternate to Halmahera the next day and then jumped in a car for a 4 hour drive to the city of Tobelo (you can see already why you wouldn't go here with a wheelie suitcase and your laptop) Once in Tobelo we had to wait for a couple of days before catching an overnight boat to Ilham's village on another part of Halmahera (no road!) The journey was rough to say the least. Big waves and a rickety old timber ship made for a restless night, especially when all the Indonesian passengers jumped out of their beds and ran onto the deck after we were hit side on by a huge wave that made the whole ship shudder and creek. I thought 'if they do this all the time and they're worried, then maybe we should be worried too!' Me and 'D' moved our bags, with our fins inside, a little closer to our beds just in case we had to jump ship! Anyway we finally arrived at the village of Jara Jara and after a day of rest, it was time to get in the water.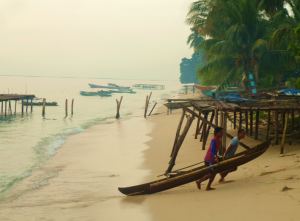 Between us we had four guns, a 100 and a 110 euro style and 120 and 142 mid-handle guns. We swam out from the beach but soon realised that the shallow reef stretched out over 1.5km and where it eventually dropped off, there were some huge waves breaking. Eventually we called it a day and decided to go out with the locals on their small boat the next day. The next morning we geared up on the beach and jumped in the boat to head out with a couple of locals who were hand line fishing. Again the waves were big at the edge of the reef and we could not get outside them to deeper water. After such a long journey it was a little frustrating that we were lucking out with the conditions. Ilham told us that there were some scuba divers from the Indonesian tourism department on their way to Jara Jara to do a survey on the reefs and that we could probably go out with them on their bigger boat when they arrive, so we took a couple of days exploring the jungle around the village and snorkelling from the beach. The visibility close to shore was amazing and with loads of coral and my first lionfish sighting, we weren't so bothered by the lack of fishing.

The scuba crew eventually arrived after being delayed due to the big swell. The first day
the boat had to stop inside the breakers again so me and 'D' decided to swim out through them. We got out no problem and started diving expecting to see some big fish. Nothing, apart from a group of very big humphead parrot fish. Very nice to see, but not for shooting. After a lot of dives along the drop off, all we saw were some medium sized snapper and we just couldn't get close to them.
Swimming back to the boat through the surf was pretty sketchy. On the way out we were able to duck dive under the waves and power through them, however on the way back in, the waves seemed to be bigger and when they were breaking down on top of us, we were getting pushed under, despite our best body surfing efforts. This alone wouldn't have been a problem but a couple of times I felt the tip of my gun touch the reef and was wary not to get it stuck and lose it completely. That and the fact that at one point, when the bubbles had cleared, I realised my face was centimetres from the coral. We stayed together and got back to the boat. Another day with no fish and tricky conditions.
The next morning we woke up to clearer skies and much smaller swell. Excited to get out, we grabbed our gear and jumped on the boat with the scuba divers. Today we were heading out to the neighbouring bay and conditions were looking good.
Once we arrived at our anchor point, Ilham told us that next to the village we could see in the distance, there was a river flowing into the sea that was home to saltwater crocodiles. 'Great! Let us know if you see one coming our way will ya', I said, as we jumped in the water. After many dives to the sandy bottom at around 25m we still hadn't seen a fish worth shooting. That evening we decided that we were going to make our way to the Bandas in the next few days. We were invited to the wedding party of Ilham's brother, where we soon became star attractions. The people hadn't seen westerners in Jara Jara for over a year. We had a great time and the people were so kind and hospitable but it was time to move on. We left Jara Jara early in the morning aboard a small boat for the 8hr journey around the island and back to the city of Tobelo. Luckily by now the sea was dead calm and a couple of dolphin sightings on the way helped to break up the journey.
We got out on a boat for a spot of fishing to a very small uninhabited island just a km or two off shore from Tobelo. We managed to shoot a couple of nice sized snapper and shared our catch with an Irish guy and his family who were living in Tobelo. How we met him is another story but he was a gentleman and gave us plenty advice to help us on our travels. We headed back to Ternate and got on a flight to Ambon and from there we could catch a flight to the Banda Islands. Ambon city is not the prettiest place so we decided to go and book our flights to the Bandas asap. We booked the flights but had to wait four days for the next one. I remembered seeing a short write up during my research about spearfishing in Ambon, so we got on the internet and realised the place I'd read about was Pulau Tiga, three small islands just a few hundred metres off shore from a village called Asilulu which was a two hour bus ride from Ambon City. We were on the bus in no time and by the time we arrived in Asilulu we had several invites from the locals to stay at their house. On arrival we were met by a very nice local man who took us straight to his house where we stayed for the next few days. In the morning we woke early and were taken out to one of the islands on our hosts boat. Before we did any fishing we had to meet the islands village leader and explain what we were doing there. With that formality out of the way, we kitted up on the beach and jumped in the water. Immediately I knew this was where we're going to get some big fish. The current was pretty strong, taking us along the edge of the drop off. This was fine as it meant we didn't have to waste energy swimming and just drifted around the island, diving down to around 25m. We felt safe in the knowledge that our host was close by in his boat just in case we did get pulled away from the island by the current. From the first dive we spotted Red and Yellow Snapper, Barracuda, Grouper and eventually some quite large GT's. The visibility was 40m+. We both got a couple of nice snapper early in the day of between 4 and 5kg and 'D' also got a nice sized Barracuda. We'd seen a few reef sharks during the day but they didn't bother us. As soon as we shot the fish, we put them in the boat. At one point around the island the current became very strong. 'D' surfaced from a dive and said he'd seen some GT's so we hung on to a rock that was breaking the surface and 'D' did his breathe-up. I watched him go down and as he reached about 15m depth, three very large GT's swam out from below a large overhanging section of rock. He waited, poised to fire, as I was thinking, 'maybe they're a little too big'. He only had his 100 at the time. The trevallies came closer and he fired, the fish bolted, line snapped and we were down a spear, not good. 'D' surfaced with quite a pee'd off look on his face. We had spare spears but they were back at the house. My turn to dive. During my breathe up I was thinking 'I have a bigger gun, with stronger line and a reel, no problem'. 'But what if these fish are just too big, maybe we need a floatline and buoy or we'll end up losing more equipment, or worse!' I dove down behind the rock and crept around to the overhang looking out to the blue, nothing. They were spooked and probably well gone. I turned around and looked in under the overhang. It was dark in there but I saw something moving. I swam very slowly in under the rock and as my eyes adjusted to the darkness I realised it was quite a large Grouper. My gun has a good range so I took aim and fired, got ya. As I turned around to swim back out from under the rock I saw 4 Blacktip reef sharks right in front of me, obviously attracted by the thrashing fish at the end of my spear. What to do? Swim as fast as possible to the surface before the sharks get my fish. By the time I was at the surface the sharks had disappeared back down to the depths. By now we were tired from fighting the current trying to stay in one spot, so we jumped on the boat and headed back to the village to share our catch out among our host family and their friends. They were impressed by the size of the fish as they are more used to catching smaller fish with hand lines, small nets and woven fish baskets. We decided that we needed to be careful not to shoot the big GT's, tempting though it was, as we didn't want to lose equipment or fish! So snapper for dinner, a couple of beers and sleep.

The next morning we were up and in the water early. We went back to the GT spot to see if there were any smaller, more manageable ones around that wouldn't drag our equipment and us to the bottom of the ocean! 'D' got lucky with a nice Trevally. Not long after, I made a dive to around 30m and as I came up slowly, admiring the coral and all the sea life along the drop-off, a Rainbow Runner swam right in front of my face, too close to shoot! I stayed perfectly still and waited for him to put a little distance between us, aimed, fired and hit. I was at about 20m still and this guy was a fighter. I started kicking towards the surface but felt like I wasn't getting anywhere so I released the drag on the reel and up I went. I hadn't seen any sharks all morning and suddenly two came out of nowhere, whizzing around towards the runner on my spear. I pulled the line up as fast as I could, kicking at the same time as the fish pulled me a couple of metres below the surface. As I got the fish closer to me, the sharks vanished again. Shane 2 Sharks 0. It was sashimi for dinner. We'd seen a lot more snapper that day and 'D' got another Barracuda. I prefer to be selective and wait for the nice, big fish rather that taking the first thing I see. We had many hours in the water so this method worked, especially on the third day!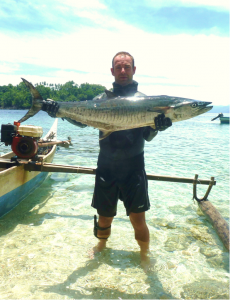 We'd been in the water all morning and I was thinking it was time for a break and a little siesta in the hammock on the beach. 'Couple more dives first', I thought. The first few days we had been cautious and not venturing too far away from the drop-offs but by now we were more comfortable diving out in the blue. When you don't have a reference point, it can be easy to lose track of how deep you are. Having a dive computer is a must when fishing out here. I recommend anyone freediving or spearing to use one. So I dropped down, kicking slowly to about 15m where I started to freefall, turned my body so my head was towards the surface and continued to sink slowly to about 30m again. I saw a few barracuda but as soon as I started to kick towards the surface they swam away. I continued upwards rotating 360 degrees just in case there was anything behind m, and there was! A great big Spanish Mackerel. I aimed and fired, bracing myself for a big fight, but nothing. A little twitch and that was it, a direct kill shot. I pulled the fish back to the surface without even using the reel. I put it on the boat, did a few more dives and we called it a day, happy with our catch and tired from two full days of fishing before. I realised just how big the mackerel was when we took him it off the boat for a few pics on the beach. I'm not great at estimating weight but I reckon it was 18-20kg. Again we shared the fish out and had a great evening with the locals, who found it amusing that I couldn't speak Indonesian and tried their best to teach me a few words.
The next morning we were on the 45 minute flight from Ambon City to Banda Naira, the busiest and most central of the Banda Islands. We found cheap accommodation and ventured down to the only Scuba Diving Centre on the island. After speaking with one of the workers there, we learned that the owner had been living in Koh Tao previous to setting up in the Bandas so we were keen to meet him and pick his brains for the best dive spots. Eventually he arrived and we chatted all afternoon with Mika, the very friendly and helpful German owner of the dive centre. He told us where the best spots were and what to look out for. Mika invited us to join him and his students on their boat the next day. So the next morning we jumped aboard the scuba boat and headed to the neighbouring island of Pulau Ai, a small island covered in nutmeg plantations and surrounded by white sandy beaches and beautiful coral reefs. We had left the spearguns in the hostel and went freediving along the walls while the rest of the group were scuba diving. This place was up another level! There were so many turtles around, we didn't know where to look, shoals of barracuda, snapper and GT's passing by the huge drop-off and when you looked closer at the reef, there was amazing macro life and endless different types of coral. We could see the scuba divers below at 25 metres and popped down a few times to swim next to them. The whole experience was surreal. A couple of days later, after sleeping the night on top of an active volcano, we headed to Banda Ai on one of the local taxi boats. We stayed at a guesthouse right in front of the sea and met up with a few other travellers there.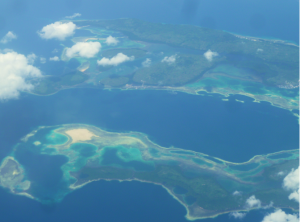 We told
them we were going fishing and whatever we get will be shared at the dinner table that night….they weren't disappointed! The locals had told 'D' that the currents were not strong at the moment so we swam out from the beach to the edge of the drop-off. It was perfect with great visibility and the light current took us along the reef edge, even switching sometimes during the day and taking us right back where we started! We saw some GT's on the first day but they swam by so fast we had no chance of getting to them. The one thing that really stood out was the huge number of snapper, both red and yellow, that were hanging out in small groups just at the top edge of the drop-off. Most of these fish were well over 5kg and it soon became clear why they were so big….they were very, very clever!
Where the snapper were at the top edge of the drop-off was anywhere between 5 and 15m deep. Easily accessible for us, but whenever we got within 20 or 30m (distance-wise) of them, they just dived straight down the wall. When we tried to follow them down, they just went deeper or into a crevasse or hole in the face of the wall. We couldn't get near them. The visibility was so good that the fish could see us approaching from far away. After trying to get at them many times that morning without success, we had to think of something else.
We decided that next time we saw them, we would stop swimming toward them and one of us would dive down the face of the wall, out of sight to maybe 20 or 25m, swim along the face of the wall until we were below the fish and then come up and basically ambush them. We tried this technique several times but although we were getting closer, it wasn't close enough. At one point, as I popped my head above the edge of the wall, I noticed the snapper were quite close, so instead of darting up and spooking them, I stayed low and hoped they were inquisitive enough to come and have a look. I waited maybe 10 or 15 seconds and had another look. They were coming closer. Fish can sense vibration in the water and as long as it's not too frantic they will come to see what is causing the disturbance. If you are hidden, they have to get close to see you and that's when they come within range. I knew now they were coming to check me out so I poised, aiming upward and held on a little longer. As soon as one appeared I fired and missed! 'That's OK', I thought, now we know how to get close to them. We got snapper that afternoon and almost every day after that. A few barracuda, medium size trevally, grouper and rainbow runner were also taken over the next few days.
I could continue to write about our trip in Indo but it would be a very, very long read. It was an epic two months and a place I would return to in a heartbeat. Actually as I finish writing this I'm already planning a trip to Bali! 'D' was a great buddy to dive, fish and travel with.
Here are a few pointers to finish. No matter where you plan on going, always do as much research as possible. You can't beat first hand recommendations from someone who has already been where you're going. If you want to get off the beaten track then a lot of planning and preparation is required. Transport can be tricky for example as can getting spare equipment if you lose or break stuff. Packing 'light' is essential. Research the climate for the area you intend to travel to and check with the local fishermen regarding currents etc. before you jump in the water. If you want something easier and more organised you can go on liveaboard trips or head somewhere like Bali where guided spearfishing trips can be arranged. Indonesia is very cheap once you get there and the people are extremely helpful and friendly.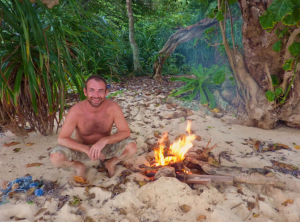 Respect the locals and don't go clearing all the fish from the reefs. We had a fair amount of spearing experience before we got there and I'd like to think that we learned a lot during our time in Indonesia. As far as I know there are no formal regulations regarding spearfishing in Indo, but again, check with the locals and make sure you let them know what you're doing before you go fishing in their waters.
Some places to 'Google' are, Bali, Flores, Ambon, and the Banda Islands. Dive safe and enjoy the adventure!
© This article and its contents are copyright protected